Jeddah Central:
Redefining Urban Excellence and Vibrancy
Jeddah, the bustling city on the Red Sea coast of Saudi Arabia, is set to witness a remarkable transformation with the ambitious Jeddah Central Development. Spanning an expansive area of 5.7 million square meters, this project aims to create a world-class destination that capitalizes on Jeddah's strategic location and proximity to popular tourist and pilgrimage destinations. 
"Jeddah is set for remarkable transformation with Jeddah Central Development"
Districts Enhancing Urban Lifestyle:
The Jeddah Central Development encompasses several distinctive districts designed to elevate the urban lifestyle experience. The Waterfront District takes center stage, featuring an international standard yacht marina and expansive sandy beaches. The Sports Park District caters to sports enthusiasts, offering state-of-the-art facilities and recreational spaces.
The Cultural & Creativity District showcases Jeddah's rich heritage and fosters artistic expression, while the Wellness District focuses on promoting health and well-being. This massive project will be implemented in three major phases, the first of which will be completed by the end of 2027.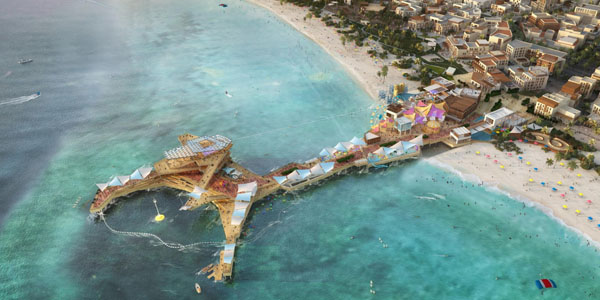 "Jeddah Central Development encompasses distinctive districts designed to elevate the urban lifestyle experience"
A Strategic Location with Unique Features:
Situated in the heart of Jeddah, the Jeddah Central Project benefits from its exceptional location on the Red Sea coast. It leverages this advantage by expanding attractive beaches with a 9.5-kilometer-long waterfront. The project's sandy beaches stretch for 2.1 kilometers, offering a delightful recreational space for residents and visitors. Additionally, Jeddah's proximity to the revered pilgrimage destinations of Makkah and Madinah further enhances its appeal.
Iconic Landmarks Enriching the Skyline:
The Jeddah Central Project is set to become an architectural masterpiece with its notable landmarks. A museum will celebrate the city's culture and history, while an opera house will serve as a vibrant cultural hub for performing arts. A state-of-the-art sports stadium will offer world-class sporting events, and an oceanarium along with coral farms will provide an immersive experience of marine life. These landmarks will not only enrich the city's skyline but also elevate Jeddah's status as a global destination.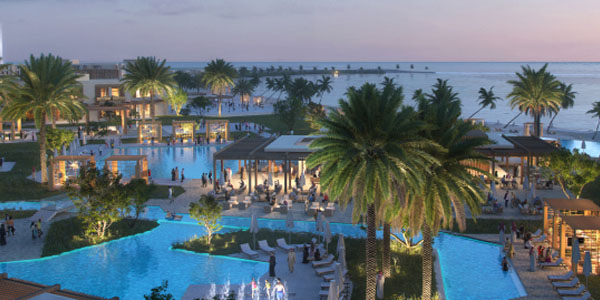 Impressive Development Figures:
The Jeddah Central Development showcases remarkable numbers that underline its scale and impact. The project includes the development of four iconic landmarks, 2,700 hotel rooms to cater to the growing tourism industry, and 17,000 residential units to accommodate a thriving community. Furthermore, the project incorporates over 10 entertainment and tourism projects, ensuring a vibrant and dynamic atmosphere.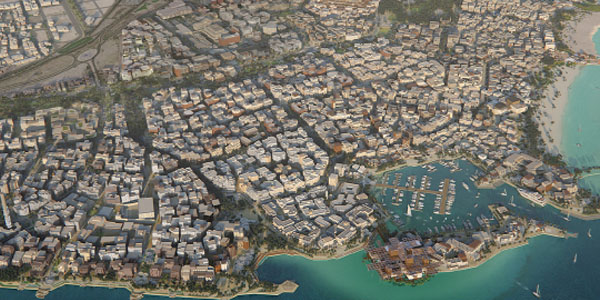 Sustainable Development and Renewable Energy:
Aligned with the goals of Vision 2030, the Jeddah Central Development project places a strong emphasis on sustainability. Renewable energy sources will be utilized throughout the project, contributing to a greener and more environmentally friendly urban development. By integrating sustainable practices, the project aims to set new standards for future development in the region.
"Renewable energy sources will be utilized throughout the project"
The Jeddah Central Development is poised to transform Jeddah into a world-class destination, aligning with the goals of Vision 2030 and creating a thriving economy and vibrant community. By embracing the Jeddah Central project, Saudi Arabia showcases its commitment to urban excellence, cultural enrichment, and offering the best lifestyle experiences for residents and visitors. Jeddah Central's remarkable districts, landmarks, and impressive development figures stand as a testament to the city's bright future.
Ventures Onsite is tracking these major projects and many more, if you would like to find out more on how you can subscribe to receive access to project data, please contact us.