United Arab Emirates construction market in 2022
State of the UAE's Economy
The UAE is making remarkable progress in sustaining its economic growth as it recovers from the effects of the pandemic. Under Abdulla Bin Touq Al Marri's leadership, there are plans to grow by 5% – 6% this year and continue that trajectory throughout the coming decade with ambitions for doubling their economy size by 2031. Already a diversified non-oil-based economy supported through public spending, credit expansion and developing business sentiment – coupled with increased tourism following Dubai Expo 2020 preparations – has seen impressive results predicted by IMF at 4.2%.
In May 2022, Sheikh Mohammed bin Zayed al-Nahyan was unanimously elected as the new President of UAE by its Federal Supreme Council. Since then, he has assumed leadership over a key regional player that continues to expand and develop in unrestrained speed: The nation is well on course with ambitious national goals that are set to be realized within 50 years when it will commemorate 100 years since their momentous founding – made clear through their self proclaimed dream goal of becoming "the Best Nation in the World".
Currently, Gevora Tower in Dubai holds the crown as the world's tallest hotel tower. One of the next tallest buildings in Dubai has reached its highest point. After the final pour of concrete on the building's 79th level, th Uptown Tower construction project near JLT has reached its highest point. A 79-floor skyscraper under construction in Dubai, which was inspired by the shape of a diamond, has been described as the next iconic building in the city's skyline.
"UAE is hoping the economy will grow by 5% to 6% in 2022 as it recovers from the pandemic and by the same pace over the next few years to help double the economy by 2031"
UAE Federal Budget Highlights
With the UAE's Ministry of Finance announcing a federal budget allocation at US$ 16.04 billion for 2022, social development and benefits account for roughly 40% of that total figure with over US$ 6.59B earmarked towards it. Additional allocations include: general government affairs (US$ 5.85BN), infrastructure projects (US0 063B) and financial investments ($ 065M). While this is only part of the overall spending across individual emirates in the country such as Abu Dhabi & Dubai, it signals official economic plans from within The Emirates – emphasizing an increased focus on social priorities alongside infrastructural and investment initiatives among others.
The UAE Cabinet approved the country's federal budget for five years from 2022- 2026, with total expenditures of US$ 79 billion during a Cabinet meeting at UAE pavilion at Expo. Most of the spending is going to development and social benefits. The largest share of the 2022 budget was allocated to the development and social benefits sector at 41.2%, from which 16.3% is for education, 6% for social development, 8.4% for health, 8.2% for pensions and 2.6% for other services. Some 3.8% of the budget was allocated to the infrastructure and financial resources sector.
With the small decline in spending in 2022, the budget suggests a modest pulling back of fiscal support at the federal level as the economy recovers from the Covid-19 crisis and a similar level of spending seems likely for the next five years," according to Scott Livermore, ICAEW Economic Advisor and Chief Economist at Oxford Economics. Also established at the meeting was the Emirates Infrastructure and Housing Council, led by Suhail Al Mazrouei, Minister of Energy and Infrastructure, which aimed to unify federal and local housing efforts, coordinate on road and infrastructure projects, and build an urban and housing road map for the UAE.
Dubai ruler Sheikh Mohammed bin Rashid Al Maktoum approved Dubai's budget for the fiscal years 2022-2024, with a total expenditure of US$ 49 billion
UAE construction industry
The UAE construction industry continues to be a major contributor to the nation's overall economy. Projections from ResearchAndMarkets suggest that the market is set for steady expansion over the next few years, estimated at an annual average of 3.8% up until 2025. Contractor awards are expected totaling US$ 27,036 million in 2022.
UAE construction contractors
In the highly competitive UAE construction market, the opportunities for growth are abundant. 2022 brings with it a diverse array of major contractors vying for contracts across Abu Dhabi, Sharjah and other regions throughout the country. From international players to local firms, these key companies will be at center stage in competing with one another as they strive to secure lucrative projects in this thriving sector.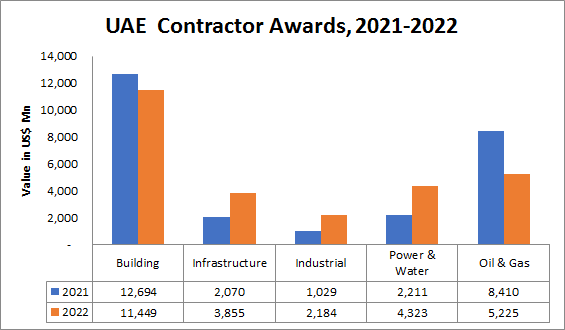 UAE major major contractors
As the UAE continues to develop and expand, 2022 promises an exciting future for several major contractors. CJIC is a leading Chinese company focusing on international economic and technical cooperation; ASGC offers general contracting solutions; NMDC does extensive work in marine dredging; NPCC specializes in petroleum construction services, while Mohammed Abdulmohsin Al Kharafi & Sons Company WLL stands out with unique expertise covering multiple sectors. With these companies at the helm of growth initiatives this year, the possibilities are endless!
Major UAE construction projects expected to be awarded in 2022
Mixed Use Tower on Sheikh Zayed Road, Galleria Investments LLC
Mirfa-2 (M2) Independent Reverse Osmosis Water Project, Emirates Water And Electricity Company (EWEC) – (Former ADWEA)
Masaar in Sharjah – Kaya Townhouses and Villas, Arada Development (A part of KBW Investments)
Tilal Al Ghaf – Aura Gardens, Majid Al Futtaim Group
The UAE is advancing rapidly and 2022 promises groundbreaking opportunities for contractors. If you're looking to get in on the action, Ventures Onsite has your back – track major construction projects across the UAE and GCC with us today! Contact one of our consultants now to explore these prospects further.
Ventures Onsite is tracking these major projects and many more, if you would like to find out more on how you can subscribe to receive access to project data, please contact us.