Qatar World Cup Construction
Qatar's economy and FIFA 2022
Qatar is registering strong economic growth backed by a rebound in domestic demand, higher hydrocarbon prices, and hosting the 2022 FIFA World Cup. The Qatar government's robust governance during the pandemic has helped reduce the negative impact of the pandemic and facilitate recovery.
The International Monetary Fund (IMF) has predicted that Qatar's economic growth rate will reach 4.9% driven by a constant rise in gas prices and the hosting of the FIFA Cup Qatar 2022.
According to the recently announced official statistics, the direct financial revenues from organizing the FIFA World Cup Qatar 2022 are estimated at US$ 2.2 billion, while the long-term economic revenues, from 2022 to 2035 are estimated at US$ 2.7 billion, amid expectations of high tourism revenues, which are expected to flourish during the World Cup and beyond.The FIFA World Cup Qatar 2022 will catalyze Qatar's long-term tourism goals. The large-scale sporting event is likely to be crucial to raise tourism to 12% of the country's GDP and attract millions of visitors a year by 2030.
According to Statista, the International Federation of Association Football (FIFA) has forecasted an expenditure of approximately US$ 1.7 billion on the 2022 World Cup. Around US$ 322 million were budgeted for operational expenses for the event.According to the Ministry of Finance, total revenues achieved, during H1 2022, reached US$ 41 billion, with US$ 24 billion coming in Q2, and US$ 18 billion in Q1. There was a total of US$ 9 billion of non-oil revenues, with US$ 7.5 billion coming in Q2 and US$ 1.5 billion in Q1. Total expenditures amounted to US$ 28 billion during H1 2022, distributed over US$ 14.3 billion during Q2 and US$ 14 billion during Q1, of which US$ 9 billion were salaries and wages. Spending on main projects came in at US$ 9.6 billion in H1 2022.
The private sector investment has also contributed significantly to the completion of construction projects.A few leading private Qatar construction companies in Qatar's building sector include QD-SBG Construction, Gulf Contracting Company, Consolidated Contractors Company, Al Jaber Engineering, HBK Contracting Company, Bin Omran Trading & Contracting, and Qatar Building Company.
"Qatar is contractor awards are expected to
grow by 100% in 2023"
Tourism in Qatar
Qatar expects the Qatar FIFA World Cup tourism in 2022 to add over US$ 17 billion to its economy, lower than the previous estimate of US$ 20 billion.
The country is set to attract 1.2 million visitors, within its earlier estimated range of between 1 million and 1.5 million, according to Nasser Al Khater, Chief Executive Officer of FIFA World Cup Qatar 2022. The World Cup will be a strong point to attract foreign investment.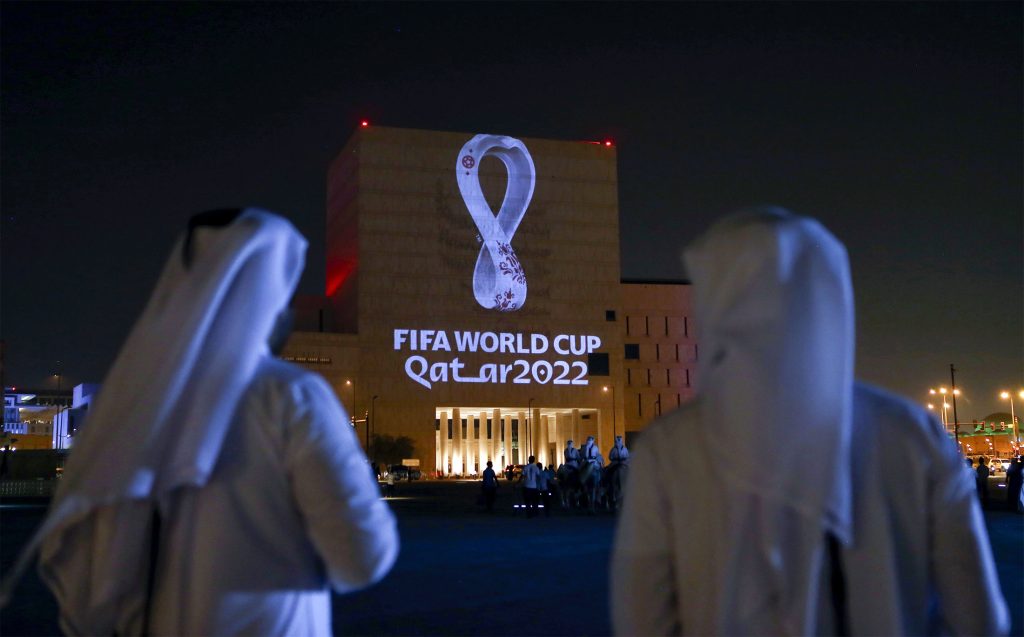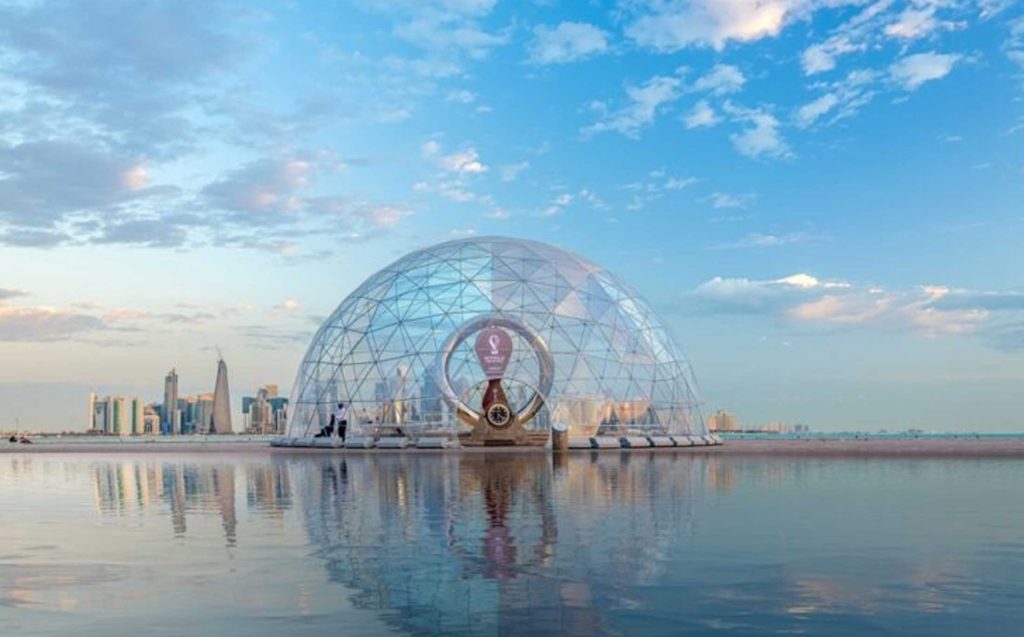 Major Qatar FIFA Construction Project Announcements
The country's construction industry is expected to benefit from investments in preparation for the 2022 FIFA World Cup and Qatar National Vision 2030. According to the 2021 Fitch Solutions report forecast, the industry is expected to expand by a compound average growth rate (CAGR) of 1.8% between 2023 and 2030, after increasing by an estimated 4% in 2021.Over the years, Qatar's focus has always been on Qatar infrastructure development needed to deliver the FIFA World Cup 2022, stadiums, airports, rail and metro lines, and on leisure and hospitality facilities.
After the World Cup 2022, Qatar will host championships (Asian Games 2030) in the future wherein the designs of the stadiums will be designed to cater to the future needs of such events and other cultural events rather than building new ones. Lusail Stadium, which was completed in December 2021, is an 80,000-seat venue hosting the 2022 FIFA World Cup final. The seating will be removed and donated to arenas and stadia abroad after 2022, while the exterior and roof are slated to enclose a community space that will house schools, shops, health clinics, and sports facilities.
The total construction contractor awards in Qatar are estimated to be worth US$ 17,300 million in 2022 and US$ 16,000 million in 2023. The government's aim for economic diversification is expected to support construction projects. Government spending will play a significantly important role in boosting growth of the construction sector. According to Oxford Business Group, recent milestones that will positively shape the Qatar Construction sector in the coming years include the passage of the dedicated Public-Private Partnership (PPP) Law and other measures related to private sector worker protections, which should have a significant impact on laborers in construction.Qatar has recently awarded an ambitious US$ 1.48 billion PPP contract for the development, design, build, finance, and procurement of a 150,000-cu-m-day sewage treatment works (STW) project. The deal was awarded by Qatar Public Works Authority (Ashghal) to a consortium of Metito, Al Attiyah Motors & Trading Company, and Gulf Investment Corporation (GIC).
The project is located in the areas of Al Wakrah and Al Wukair and marks the country's first sewage treatment PPP project. The consortium's scope will involve the design, construction, and delivery of Kahramaa facilities, including a primary substation, initial commissioning, performance acceptance testing, and 25 years of operations and maintenance. The Al Wakrah and Al Wukair STW project is expected to contribute to achieving Qatar's 2030 Vision to streamline water consumption and encourage the use of unconventional water resources.
Major Qatar Contractors and Qatar National Vision 2030
Ashghal is responsible for the planning, construction, and management of all infrastructure and public buildings in the country. The building sector is expected to continue to witness projects that support Qatar National Vision 2030, such as the Blue Line of the Doha Metro, Sharq Crossing, and the continued development of energy and utility infrastructure.
Various industry stakeholders expect that the electricity and water project pipeline is anticipated to be the least impacted after 2022.QatarEnergy's affiliates, QatarEnergy Renewable Solutions and Qatar Fertiliser Company (Qafco) have recently signed agreements for the construction of the Ammonia-7 Project, the industry's first world-scale and largest blue ammonia project.
With a targeted start-up date of Q1 2026, the new plant will be located in Mesaieed Industrial City (MIC) and will be operated by Qafco as part of its integrated facilities.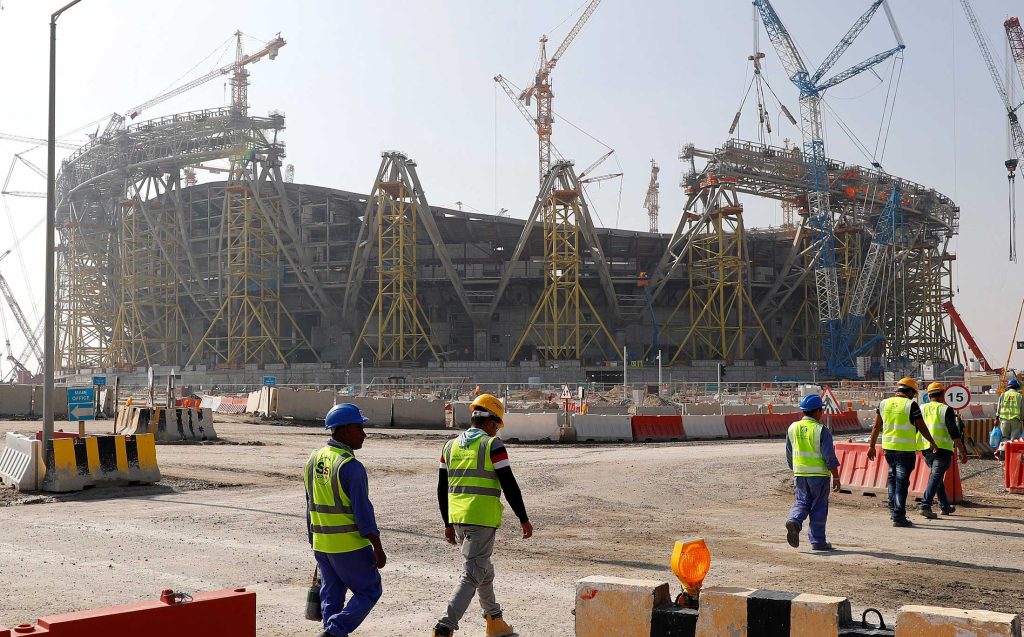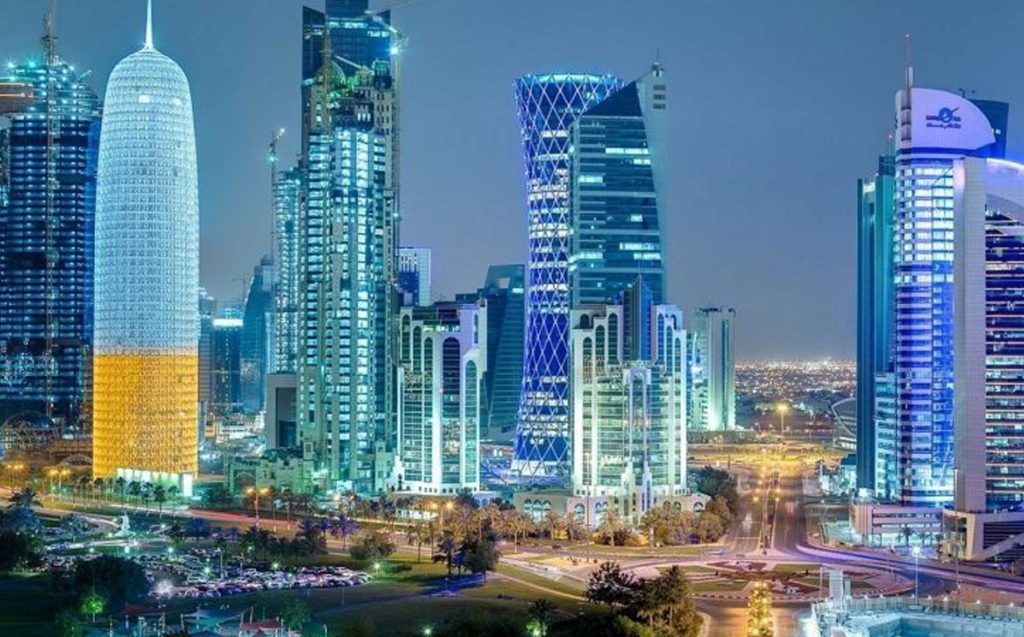 QATAR Major Construction Projects for FIFA 2022
Some Qatar construction companies and construction projects to pay attention to are:North Field South Project – 2 Liquefied Natural Gas Mega Trains, awarded by Qatar Energy.
North Field Production Sustainability (NFPS) Phase 2 – Compression Facilities Project Phase 1 awarded by, Qatar Energy.Facility E – IWPP, awarded by Kahramaa with Energo as the Project Consultant.Ruya Development (Al Shaheen Oil Field Development Phase 3 – Batch 1, awarded by North Oil Company with McDermott Internation as the Project Consultant.
Qatar Power Transmission System Expansion For 2022 – Substations & EHV/HV Cables & Overhead Lines award by Kahramaa.
Source: Ventures ONSITE Projects Intelligence Platform:
Ventures Onsite is tracking these major projects and many more, if you would like to find out more on how you can subscribe to receive access to project data, please contact us.