The state of Saudi Arabia's construction market
The state of Saudi Arabia's construction market
What is the current state of Saudi Arabia's construction market, who are the main players, what are the major projects and how will the economy grow in the years to come. Take a look at what Ventures Onsite has to say about the state of the KSA construction market .
KSA 2030 vision and a diversified economy
The kingdom of Saudi Arabia (KSA) is focused on diversifying the economy under its Vision 2030 programme that aims to cut its dependence on hydrocarbons and develop local industries and the kingdom's manufacturing capabilities. The International Monetary Fund (IMF) revised its 2022 economic forecast for KSA, anticipating a 2.8% growth, reflecting higher oil productions in line with the OPEC+ agreement, reinforced by strong-than-anticipated growth in the non-oil sector. The IMF expects the GDP to fall to 3.6% in 2023.
However, KSA forecasts 7.4% GDP growth in 2022, according to the budget (refer Figure 1). This is also due to as a result of sizably higher oil sector growth and robust levels of non-oil growth. KSA expects to post its first surplus in about a decade in 2022.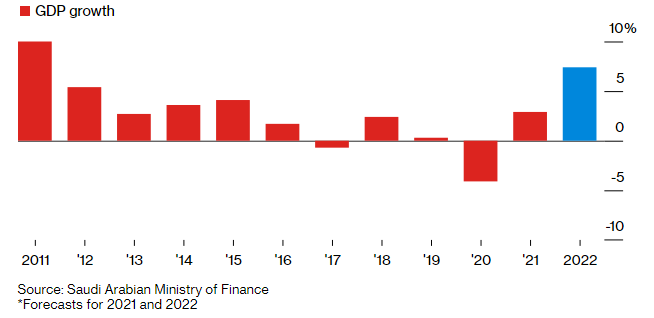 PIF is planning to invest another US$ 40 billion in 2022
KSA's ability to maintain fiscal diligence depends partly on the increasing roles of entities such as the Public Investment Fund (PIF) or the National Development Fund in backing the Crown Prince's ambitious investment plans. The kingdom plans more than US$ 3 trillion investment in the domestic economy by 2030; which is expected to be tough to meet according to economists. KSA is developing a number of large-scale, complex and multi-purpose construction projects that aim to transform the broader economy. The kingdom's main giga-projects are Neom, Red Sea Project and Qiddiya. Rolled out as part of the Vision 2030, these developments are globally unique in scope and ambition and aim to stimulate broader economic growth. Managed by the PIF, many of these projects are designed to become important hubs that will stimulate the economy and future of tourism in thekingdom. In December 2021, the Crown Prince announced that the PIF invested US$ 22.4 billion locally in 2021 and is planning to invest another US$ 40 billion in 2022. The private sector is also expected to contribute to achieving the kingdom's ambitious vision and supporting the implementation of its programs.

KSA construction market promotes economic growth
The 2022 budget indicates economic recovery as the key pillar underpinning the improving fiscal outlook. The economic expansion should also help to support the budget position and debt levels as a proportion of GDP. The planned expenditure for fiscal year 2022 stands at US$ 254 billion; with a continued focus on promoting economic growth, improving spending efficiency, and generating employment. The government also remains committed to spending on education, healthcare and social development, again as part of its mission to fulfil Vision 2030 objectives of promoting a better quality of life and a diversified economy. Moreover, thebudget comes as part of the reform process to develop the management of public finances while maintaining the previously-announced spending ceilings in a manner that ensures fiscal sustainability in the medium term and a strong financial position that enables the state to respond to any emergency changes and absorb unexpected economic shocks.
The budget estimates for the FY 2022 show that total revenues will reach US$ 278 billion, an increase of 12.4% compared to the projected revenues in 2021. Revenue is estimated to rise to US$ 0.28 trillion, leaving a surplus of US$ 24 billion. It is expected that public debt will stand at US$ 250 billion in 2022, or 25.9% of GDP. The expected surplus in 2022 comes not only on the back of higher oil prices and production, but also on the back of scaling back Covid-related spending as well as continuing with transferring the investment burden to thestate funds led by the PIF, according to Mohamed Abu Basha, Head of macroeconomic analysis at EFG Hermes. Total spending in the kingdom will reach US$ 1.9 trillion in 2030, including PIF investments, and private sector and government outlays, according to the Crown Prince. However, given the current scenario with regards to the Omicron virus, estimates are expected to change as economic recoveries will be put in question. Government officials plan to cut spending for the next two years before increasing it slightly in 2024.
Saudi Arabia Construction Industry in 2022
The construction sector in KSA plays an important role in the economy. Spurred by improved macroeconomic fundamentals and the resurgence of the industry post-pandemic, the total construction contractor awards in KSA are estimated to be worth US$ 48,601 million in 2022. The building sector (US$ 21,172 million) is expected to register the largest contractor awards in 2022 followed by power and water sector (US$ 9,389 million) and the oil and gas sector (US$ 8,342 million) (refer Figure 2).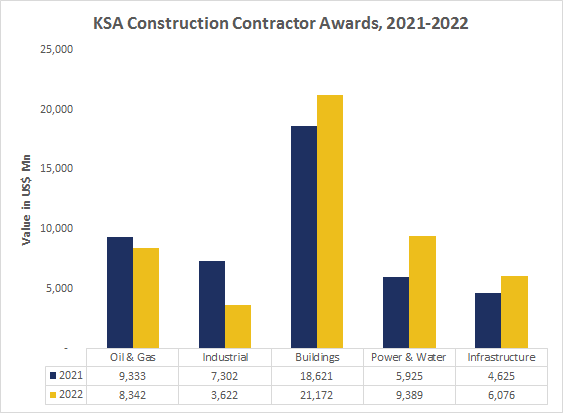 KSA has set an ambitious target of raising home ownership among Saudis to 70% by 2030 under the Sakani programme. KSA has also announced a trillion-dollar pipeline of infrastructure projects to position the kingdom as a global hub for investment and logistics.
KSA expects spending on power and renewable energy projects to hit US$ 293 billion until 2030. The kingdom has plans to be the biggest producer of hydrogen in the world. KSA plans to generate 15,109 gigawatt hours of electricity from renewable sources by 2024, supplying 692,557 houses with energy.
A large portion of gas from the US$ 110 billion Jafurah development will be used for blue hydrogen, according to Energy Minister Abdulaziz bin Salman. ACWA Power, expects to finalise in Q1 2022 billions of dollars in financing for a green hydrogen joint venture at theplanned futuristic city Neom.
While the oil market is tight for now, industry experts predict that the situation might ease in2022 and inventories start to build up once again, especially if the winter does not prove to be severe and demand is negatively impacted by possible lockdown in several countries where virus infections are rising again. The Saudi Vision 2030 and the National Water Strategy 2030 is aimed at improving the water sector's resilience and its ability to respond to emergencies and disruptions as well as to provide peak load management of water demand.
Major Players in the Saudi Arabia Construction Market
KSA's construction market is highly competitive, with the presence of major international and local players. The market presents a plethora of growth opportunities, which is expected to further drive the market competition. Some of the contractors who bagged major contracts in2022 include National Petroleum Construction Company (NPCC), JGC Corporation, Larsen & Tobro, Webuild, Subsea 7, Acwa Power International etc. Some of the major project owners who announced large scale projects in 2022 till date include Public Investment Fund (PIF), Saudi Aramco, Diriyah Gate Development Authority, Umm Al Qura for Development & Construction Company, Saudi Electricity Company (SEC), Ministry of Housing – Sakani, SaudiArabia etc.
Major KSA Construction Projects to be Awarded to Contractors
KSA's construction market is expected to return to its pre-pandemic levels in 2022 as thePublic Investment Fund (PIF) is pushing for more projects. The government will maintain its commitment towards Vision 2030 goals, particularly in areas such as the housing program, infrastructure, renewables, and mega projects, while allocating contingent funds towards addressing the risks related to the pandemic. In 2022, the construction industry's output will be supported by the huge pipeline of projects such as Neom, the Red Sea project, AMAALA and Qiddiya. There is currently no immediate panic for KSA's construction sector in 2022 if thenew virus does not pose a major threat.
The table below lists some of the major projects expected to be awarded in 2022.
| | | |
| --- | --- | --- |
| Name | Project Status | Client |
| Amiral Petrochemical Complex | Tender for Construction | Saudi Aramco, Total |
| Amaala – The island | Tender for Construction | Saudi Amaala Company |
| Mall of Saudi in Riyadh | Tender for Construction | Majid Al Futtaim (MAF) Group |
| King Abdulaziz Road Project (KAAR) – Buildings (Package A) | Tender for Construction | Umm Al Qura for Development & Construction Company, Jeddah Municipality |
| Zuluf Field Increment Programme – Package 1 – Central Processing Facilities | Tender for Construction | Saudi Aramco |
Source: Ventures ONSITE Projects Intelligence Platform: www.venturesonsite.com
Ventures Onsite is tracking these major projects and many more, if you would like to find out more on how you can subscribe to receive access to project data, please contact us.